Do you enjoy watching Blue Jays in your backyard? Do you wonder why Blue Jays are not feeding more often from your bird feeders? Perhaps your backyard oasis is lacking a Blue Jay feeder since these birds require a bird feeder designed to satisfy larger birds.
Here's my suggestion:
Add one of the best blue jay bird feeders to the mix that I'm about to recommend to you below.
In this article:
we tested many bird feeder options and present our top 10 blue jay feeder choices
we provide a buying guide to assist you in your blue jay feeder purchasing decisions
we answer some blue jay feeder FAQs
Does this sound like a good idea? Keep reading to find out the pros and cons and other valuable information about my recommendations.
Blue jay bird feeder – our top 10 picks
Best Bird Feeder For Blue Jays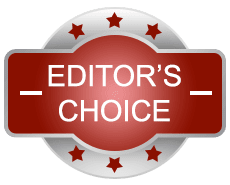 Woodlink Deluxe Cedar Bird Feeder with Suet Cages
Editor's Comments:
This blue jay bird feeder was so impressive that I decided to award it editor's choice. It's constructed of reforested red cedar and dried in a kiln, plus it holds 2 suet cakes and 5 pounds of bird seed simultaneously in the hopper.
Dimensions: 13.25 x 9.5 x 9.38 inches
Feeder Type: Hopper / Suet Combo Feeder
Capacity: 5 pounds / 2 suet cakes
Material: Cedar
Brand: Woodlink
The Bottom Line:
This gorgeously designed hopper blue jay feeder is my favorite choice because it's handcrafted in the United States and made of beautiful red cedar. It's also easy to refill, simple to hang up, and it can be attached to a pole if you need another option. Best of all, it easily feeds a wide array of wild birds.
What's Good
Comes with hanging attached cable

Contains 2 dual sided suet cages

The top opens for easy refills

Effortlessly hangs from hooks or tree branches

Made in the USA
What's Bad
Chain more preferable than attached cable

Difficult to clean

Flimsy plastic sides
Summary
Overall, I feel pretty confident recommending the Woodlink Deluxe Cedar Bird Feeder with Suet Cages, because out of every blue jay feeder that I reviewed, this was my favorite and I awarded it editor's choice.
What makes it special?
For starters, I absolutely adore the design and I'm particularly proud that this bird feeder is made in the USA. It's durable and attractive to say the least too.
At the end of the day, I like to feed my backyard birds using multiple food sources. In the past, I had no choice but to put out more than one feeder to accomplish this task.
This isn't necessary any longer!
I can easily fill the hopper up with mixed bird seeds, or peanut pieces, or black oil sunflower seeds, or any other seeds that I desire. And the birds absolutely go crazy for it!
But here's the kicker…
On each side of the hopper, you'll notice a wire cage. These cages exist to place suet cakes within. Do not hesitate to add fruit filled cakes, suet cakes with mealworms, or even spicy suet cakes to the mix.
The blue jays in your backyard are going to love this feeder… And this is especially true if you keep it filled with tasty treats.
Besides the gorgeous design, the hopper is really easy to refill because there is a wooden door on the top with hinges. Just open it up, pour in the bird seeds, and walk away because your job is done.
In my opinion, this blue jay bird feeder gets a gold star because it exceeded my expectations by far.
Best Bird Feeder For Blue Jays And Cardinals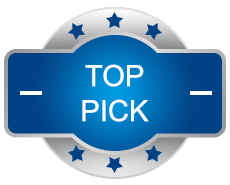 Seed Saver Domed Feeder
Editor's Comments:
I chose this as my runner-up because it's lightweight and easy to install, you can move the dome up and down, which makes it easy to control the size of the birds visiting the feeder, and it's adorable and made in the United States.
Dimensions: 15.18 x 8.03 x 15.06 inches
Feeder Type: Tray Feeder w/ Roof
Capacity: 1 pound of seed
Material: UV-stabilized polycarbonate plastic
Brand: Droll Yankees
The Bottom Line:
At the end of the day, I consider this a great feeder because the overall design and construction is perfect. You can move the dome up and down to keep out larger birds when necessary, or raise it a little to let cardinals and blue jays in but still keep squirrels and other ground dwelling animals out. Plus, the clear dome keeps the seeds safe and protected from harsh outdoor elements.
What's Good
Choose between 6, 10, and 15 inches

Tray feeder holds 1 pound of bird food

Adjustable dome cover

Durable design protects against squirrel damage

Made of UV stabilized polycarbonate
What's Bad
Tray doesn't stay in place

Thin plastic material

Pricey
Summary
I'm happy to designate this my runner-up because it is truly deserving of the honor.
For starters, the overall design is mildly aesthetically pleasing and when one or more blue jays and cardinals are perched on the tray while eating, it looks even more stunning as you get to enjoy the beautiful show.
Installation is easy enough. A large metal rod with a hook on the end goes from the feeding tray up through the dome. Just take the metal rod and place it on a tree branch or a metal hook to quickly hang it up without much difficulty.
I'm particularly fond of this dome styled platform bird feeder because of the durable design. The rod going up the middle is made of sturdy brass, so it isn't going to break or bend very easily.
Even better…
The dome is made of UV stabilized polycarbonate. This sturdy material will keep the squirrels out and the bird seeds in the feeder where they belong. It will protect the seeds from unwanted intruders and make it safe for your favorite blue jays and other birds.
Cleaning and refilling the tray is very simple. Unhook it, wipe it down with a damp cloth, refill the open tray, and hang it back up again. It doesn't get much easier than that.
Best Wreath Blue Jay Feeder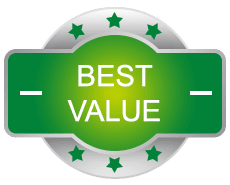 Songbird Essentials Whole Peanut Feeder Wreath
Editor's Comments:
I'm a big fan of the Songbird Essentials Whole Peanut Feeder Wreath because it holds lots of peanuts, maintains its shape after years of use, hangs up simply from a branch or hook, and the blue jays in my backyard can't seem to get enough of these tasty peanuts.
Dimensions: 13 x 13 x 2.75 inches
Feeder Type: Wreath Feeder
Capacity: 1 1/4 lb of peanuts in shells
Material: Metal
Brand: Songbird Essentials
The Bottom Line:
All in all, this is the ideal choice for a whole peanut feeder. It's so lightweight that it's very easy to hang up and take down whenever you need to refill it with extra peanuts. It's incredibly affordable and very inexpensive, and it also seems to attract blue jays because of all the tasty peanuts that it provides.
What's Good
Holds 1 ¼ pounds of peanuts

maintains its round shape with no trouble

Hangs from a hook, branch, or pole

Blue jays love this feeder

Refilling is fast and easy
What's Bad
Grackles steal the peanuts

Susceptible to squirrels

Whole peanuts only
Summary
My final thoughts…
From an aesthetic standpoint, there isn't much to say. This is a round slinky-like bird feeder that doesn't look ugly but it certainly isn't attractive either. Take that for whatever it is.
Installation is really easy. It already comes with a hook that you simply place around a tree branch, the end of a pole, a cord, or anything else that you can use to hang the hook.
Believe it or not, this bird feeder is actually stronger than it seems. It holds its shape really well even with heavy birds and squirrels jumping up and down on it. And the metal material is fairly sturdy and strong.
People look at this bird feeder and assume it's going to be difficult to refill. While not the easiest in the world, it's certainly not impossible by any stretch of the imagination. Hold it in your hands, take a scoop of whole peanuts and dump them down one side of the feeder tube and keep adding more until it's all filled up.
Lastly, caring for and cleaning this bird feeder is a breeze. You'll have to take it down and either wipe it down with a cloth or you could even put it in the dishwasher and let the machine do the heavy lifting for you.
In the end, it's a really good choice and blue jays go head over heels for peanuts so they're going to love it when you put out this bird feeder in your backyard.
Best Ground Feeder For Blue Jays
Amish Poly Ground Bird Feeder Tray
Editor's Comments:
I think the Amish Poly Ground Bird Feeder Tray is the perfect choice for ground feeders for a few reasons. It's large and holds many pounds of bird seeds and feed, its lightweight and easy to carry, and its open design is perfect for wrens, blue jays, woodpeckers, and cardinals.
Dimensions: 18 x 12 x 6 inches
Feeder Type: Tray Feeder
Capacity: 6 quarts
Material: Plastic made from poly recycled lumber
Brand: DutchCrafters
The Bottom Line:
I believe this ground bird feeder tray is a phenomenal choice after researching and thoroughly testing this product. The quality is hard to ignore because the design is beautiful and it's available in numerous color variations. It's easy to maintain and clean up, it's constructed by the Amish in the United States, and it's resistant to mildew, mold, and termites.
What's Good
Aluminum mesh floor drains rainwater

Made with environmentally friendly material

Attracts blue jays and other large birds

Available in 12 different colors

It only weighs 3 pounds
What's Bad
Open to ground dwelling animals like squirrels

Made of recycled plastic instead of wood

Expensive
Summary
I can say with absolute certainty that blue jays and other larger birds love eating out of this ground tray feeder. It holds at least 5 pounds of seeds that easily cover the bottom of the tray. And large birds fly over, eat their fill, and fly away when they're finished.
Best of all…
I really enjoy having so many great color options. In fact, there are 12 to choose from. I'm not going to name all of them, but a few of the popular colors include Turf Green, Aruba Blue, Cherry Wood, Weathered Wood, and Milwaukee Brown to name a few common choices.
Even better…
This wide-open tray never fills with water because they added an aluminum mesh floor to protect the food and prevent the feeder from collecting rain. The feeder will drain fully and keep the food dry, which is a nice added bonus for my favorite backyard birds.
This feeder was handcrafted in Amish country, so it was made with precision, care, and the skills that only the Amish possess.
In the end, it's a great tray feeder because it's low to the ground, easy to clean and maintain, made from termite resistant poly lumber, drains easily, it's lightweight, and it's constructed with stainless hardware.
Best Combination Feeder For Blue Jays
Nature's Way Cedar Hopper Bird Feeder with Suet
Editor's Comments:
I wanted a new multipurpose bird feeder with many of the latest bells and whistles and this product delivers this in spades. I consider it the best combination feeder because it has a large hopper that fills easily from the top and 2 suet cages on either side of the feeder. It even has extra space, which makes it perfect for small and large birds.
Dimensions: 8.5 x 12.5 x 9 inches
Feeder Type: Hopper / Suet Combo Feeder
Capacity: 3 quarts / 2 suet cakes
Material: Cedar
Brand: Nature's Way
The Bottom Line:
All in all, the Nature's Way Cedar Hopper Bird Feeder with Suet is ideal because it has a huge hopper that fits ample amounts of bird seeds. And the seed tray is removable, which means the seeds will stay fresher longer and waste is eliminated. It's resistant to rot, made of premium cedar, and the windows are made of crack resistant acrylic, making this a durable feeder as well.
What's Good
Crack resistant acrylic windows remain clear

Ample room for larger blue jays to feed

Rust free hardware

Made from rot and insect resistant cedar

Removable roof makes refilling the hopper a cinch
What's Bad
Squirrel damage

Smaller than advertised

Plastic windows
Summary
I feel very confident in calling this bird feeder the best combination feeder for blue jays.
Why?
First of all, it may not be a gorgeous looking bird feeder with beautiful designs, but it definitely possesses its own aesthetic appeal. It's quite beautiful in its simplicity if you ask me.
Next, this hopper bird feeder hangs up by using an attached cable to hang it from a hook, a tree branch, or another protruding item. Because of this convenient cable, it's easy to install which is certainly a nice bonus feature.
Here's where things get interesting…
Overall, this feeder is incredibly durable so it's built to last during the hottest summers and the most miserably cold winters. They made it using crack resistant acrylic windows and very sturdy premium rot and insect resistant cedar wood.
I suspect that this bird feeder will last for many years to come.
Refilling the suet cages and hopper is incredibly easy. As far as the suet cages are concerned, they have a wide opening at the top so you can pop a suet cake in the wire carrier whenever you deem fit.
And the roof of the hopper is removable. Just take it off and you'll see a wide-open space that makes it simple to pour your favorite mixed seeds and other foodstuffs into the feeder without too much difficulty.
Lastly, it's simple to clean and care for this item as well. Take it down so it's no longer hanging and wipe it off using a rag and water. You can use dish soap too if you need to give it a thorough cleaning.
As I said, I feel very confident recommending this bird feeder based on my personal research and testing.
Best Peanut Feeder For Blue Jays
Birds Choice Whole Peanut Blue Jay Feeder with Green Roof
Editor's Comments:
I believe this feeder is the perfect style to feed peanuts, which is why I chose it is the Best Peanut Hopper Blue Jay Feeder. The overall design is friendly to large birds, it easily fits dozens of whole peanuts, and it's constructed with durable poly-lumber material.
Dimensions: 7 x 10 x 15 inches
Feeder Type: Peanut Hopper Feeder
Capacity: 2-1/4 quarts of shelled peanuts
Material: Recycled poly lumber
Brand: Birds Choice
The Bottom Line:
I'm a big fan of this bird feeder and recommended because it's oversized and easily accessible to blue jays, which are larger birds. The unique design has large holes for easy peanut extraction, and it's a hanging bird feeder, which will help keep squirrels and other ground dwelling animals at bay. And if that's not good enough, it's also made in the USA.
What's Good
Whole peanut feeder

Made with recycled poly-lumber construction

Unique design

Durable construction

Installation is simple
What's Bad
Instructions not included

Attracts larger bully birds

Refill opening could be bigger
Summary
It's my pleasure to tell you about a high-quality product that I consider the best Peanut Hopper Blue Jay Feeder. There isn't just one thing, but many reasons why this is such a great feeder to own.
First, it's fairly attractive although it's relatively plain and has a simple and minimalistic design. Some people prefer more bells and whistles, but I kind of like the simplicity that this feeder offers.
It isn't hard to install this birdfeeder either, which is a definite a plus in my book. Who wants to own a bird feeder that's too complicated and they can't install it? Certainly not me!
This simple design consists of a cable connected to the roof of the bird feeder that you can hang up on a nail, a hook, a tree branch, or even some shrubs. That's the extent of the installation process, which is quite simple if you ask me.
This product is also fairly durable and it was built with a bird friendly design. They added sturdy acrylic plexi panels so the blue jays can easily see the whole peanuts inside the feeder.
And the feeder itself is made with recycled poly-lumber, which isn't top-of-the-line but it's pretty strong nonetheless.
Lastly, it's fairly simple to lift up the side of the roof to refill it and it's small enough so it's really easy to clean. The one caveat is that I wish they made the refill hole a little bigger, because a bigger refill hole means pouring more peanuts into the feeder at the same time, which is a nice convenience.
Best Platform Feeder For Blue Jays
Nature's Way Hanging Platform Feeder
Editor's Comments:
This platform bird feeder by Nature's Way is the perfect fit for birdwatchers looking for a well-built hanging cedar feeder that cleans easily, which prevents bacteria and mold buildup. It has a wide opening and is specifically designed with plenty of room to attract large birds like blue jays, cardinals, and woodpeckers.
Dimensions: 12 x 12 x 2.25 inches
Feeder Type: Tray Feeder
Capacity: 3 quarts
Material: Cedar
Brand: Nature's Way
The Bottom Line:
I feel comfortable recommending this platform bird feeder. I love the design, because it's a hanging platform that's connected by a vinyl coated steel hanging cable, which makes it simple for my favorite large backyard birds to stop by and have a tasty meal. And the feeder style is perfect to accommodate many different types of seeds including peanuts, mixed bird seed, sunflower seeds, safflower seed, and more.
What's Good
Includes sturdy vinyl coated steel hanging cable

Includes rust free hardware

Accommodates a wide variety of seeds

Extra spacious design for large birds

Large platform accommodates many birds at the same time
What's Bad
Inner screen cut too small

Rocks back and forth

Loose screws
Summary
After testing and reviewing this product, it's easy to recommend it to my readers because it was such a delight.
For starters, it's a relatively straightforward hanging platform feeder without too many bells and whistles, so it's nice looking but it isn't superbly aesthetically pleasing. Yet, I personally enjoy the minimalist design.
Next, this bird feeder is very easy to install. One reviewer said that the screws were loose, so you may want to check yours and tighten them before hanging it up. But ultimately, just connect the steel cord and hang it from a tree or hook or another location.
The product is made of strong cedar wood and rust proof hardware, so it's definitely built to last. I believe this feeder will be hanging around my yard for a while. Although one reviewer said his feeder fell apart in six weeks, it was likely a manufacturing issue that doesn't happen too often.
Refilling the bird feeder is so simple. It's a wide-open platform tray. Take the feeder down, dump out old seeds if there are any, and refill the platter. You may want to wipe down the tray to prevent mold and bacteria build-up while you're at it.
And speaking of cleaning, this design is so simple to clean. The most difficult part is taking it down from wherever you hung it up to clean it off. Other than that, it's easy to wipe off and keep clean.
Most Unique Platform Feeder For Blue Jays
The Squirrel Shop Picnic Table Platform Feeder
Editor's Comments:
I fell in love with this unique blue jay feeder from the moment I saw it. It's such a cool design that you have to love it. And seeing birds sitting down on the bench as they bend over to gather peanuts and other seeds from this feeder is really fun to watch.
Dimensions: 12 x 9.5 x 6 inches
Feeder Type: Tray Feeder
Capacity: 10 ounce peanuts in shells
Material: Cedar
Brand: The Squirrel Shop
The Bottom Line:
It's my pleasure to mention that if you're looking for a unique, attractive, and interesting bird feeder, you'll definitely get it in spades with the Squirrel Shop Picnic Table Platform Feeder. It's easy to use, easy to clean, it has a sturdy cord so you can hang it up or lay it on the ground, and it's a great feeder for numerous types of seeds and mealworms.
What's Good
10-ounce package of unsalted peanuts included

Handmade design

Decay resistant cedar

Unconditional money back guarantee

Holds peanuts, bird seeds, mealworms, and more
What's Bad
Tips while hanging

Attracts squirrels

Nuts and seeds fall out when it tips
Summary
Why am I such a big fan of the Squirrel Shop Picnic Table Platform Feeder?
First off, I love the unique and attractive design. I never thought I'd find a birdfeeder in the shape of a picnic table. It's so interesting and I love seeing the birds perch on the bench as they bend over to eat the tasty bird seed inside. It's just awesome to watch in my opinion.
Second, I had no trouble installing this bird feeder. In fact, you can either hang it up using the green cord or you can place it on the ground like a tiny little picnic table sitting in your backyard.
I personally placed it on top of the railing on my back deck and I thought this was a great place to keep it because I can access it easily to refill and clean it. And the birds love it in this spot too.
It's made with cedar, which is very durable, so the design is certainly built to last. If it does break, they also say that they have an unconditional money back guarantee, so contact the manufacturer if you have a problem and they'll give you a full refund.
As I said, it's so easy to refill this feeder and it's even easier to clean and care for. Even if you hang it from a tree, simply remove it, empty out any peanut shells or old seeds, wipe it down, and put it back where it belongs right after you refill it. It's as easy as 1, 2, 3.
Best Large Capacity Blue Jay Feeder
JCs Wildlife Large Poly Hopper Bird Feeder
Editor's Comments:
JC's Wildlife Large Poly Hopper Bird Feeder is an excellent choice because it easily accommodates larger blue jays and other bigger birds. And the removable sides make it easy to clean, add fresh bird seeds, and drain moisture to prevent unwanted mold and bacteria build-up.
Dimensions: 20″ W X 11″ H X 12.75″ D
Feeder Type: Hopper Feeder
Capacity: 2 gallons
Material: Recycled poly lumber
Brand: JCs Wildlife
The Bottom Line:
This bird feeder is awesome because it's huge and it holds 2 gallons of bird seeds, which amazes me to this day. Besides the humongous capacity, they made it with recycled material so it's environmentally friendly, it's manufactured by JC's Wildlife which is a trustworthy brand, and it's simple to hang from a pole, a tree, or rest the feeder on the ground.
What's Good
Easy to fill

Holds ample amounts of bird seed

Effortlessly drains moisture with perforated tray

Lightweight and easy to carry

Durable construction
What's Bad
Squirrels can steal nuts and seeds without difficulty

Plastic perforated tray instead of metal

More expensive than other blue jay feeders
Summary
To wrap things up, I'll tell you why JC's Wildlife Large Poly Hopper Bird Feeder is one of my all-time favorites that I'll gladly recommend.
Although it isn't the most attractive bird feeder in the world, I wouldn't say it's ugly by any means either. It comes in four different colors, has an appealing graphite look to it, and it's weirdly shaped which gives it a unique design.
As far as installation goes, this bird feeder is a bit more difficult than some of the others that I've reviewed in the past. On the one hand, it's easy enough to hang up from a branch or a hook or something similar. Or if you prefer, you can even place it on the ground although I don't recommend it.
The difficulty lies in the sliding roof and the various components that go along with it. You need to open the roof by sliding it in order to clean it out, add new bird seed, or remove old bird seed. There's a removable tray on the inside as well that comes out, which isn't difficult to remove but it takes time.
On a more positive note, this bird feeder is very strong and built to last. So, any annoying removable parts should be ignored because you'll likely own this bird feeder for many years to come because it's so sturdy.
In the end, I like this bird feeder a great deal and I think you'll appreciate it too.
Best Combo Wreath Styled Blue Jay Bird Feeder
Pacific Bird & Supply Ring Suet Ball Feeder
Editor's Comments:
This is a great bird feeder because it holds suet balls or whole peanuts, which makes attracting blue jays and other large birds a humble task to accomplish. It's also sturdy, durable, and it makes for attractive wreath-like home decor.
Dimensions: 17 x 12 x 2.75 inches
Feeder Type: Wreath Feeder
Capacity: Up to twelve (12) standard-sized suet balls or 1 1/2 pounds of peanuts
Brand: Pacific Bird & Supply Co
The Bottom Line:
Here's the deal: there's a lot to love about this blue jay bird feeder including the fact that its large and holds 12 giant suet balls. It attracts blue jays and many other types of wild birds, it's decorative and easy to install, and I really think you're going to like it.
What's Good
Installation is straightforward

Holds suet balls and whole peanuts

Only weighs about 1 pound

Perfectly shaped

Comes with long hook
What's Bad
Attracts squirrels

Attracts other ground dwelling animals

Cannot feed cracked corn or bird seeds
Summary
This wire bird feeder wreath from Pacific Bird & Supply really caught my interest for a few reasons that I'll elaborate on below.
First, even though it won't win a contest for being the most aesthetically pleasing feeder, it isn't unattractive by any stretch of the imagination. And even better, you can turn it into a decoration by filling the tube with round decorative holiday ornaments to make it really sparkle and shine over the holiday season.
Installing this bird feeder is one of the least difficult things in the world to do. Find a sturdy tree limb, a taut cord, or another thick branch-like structure and use the hook that it comes with to hang it up. It doesn't take much more than that.
Durability seems like it would be an issue except it's not. The metal wires are thick and sturdy and this wreath was designed to last for quite some time. Even birds and squirrels can perch on it or hang from it and it will still hold its shape.
Refilling is possibly the most straightforward thing in the world. If it's hanging up too high, you'll need to take it down and refill it in your hand. Otherwise, stuff the suet balls down either side of the circular wreath or pack them with whole peanuts. Total refill time should take about a minute or two at the most.
Caring for and cleaning this bird feeder isn't difficult either. You can wipe it down with a wet washcloth in about a minute. You may not even need to take it down from the branch if you can reach it while standing up. Other options include unhooking it and spraying it with a hose or running it through your dishwasher.
This is an excellent bird feeder that I think you'll really like.
Buying Guide To Selecting The Best Blue Jay Bird Feeders
If you're in the market for the best blue jay feeder, then you seriously need to consider the 10 recommendations shared above. They are top-of-the-line bird feeders perfectly designed for bird jays and other larger birds.
On the other hand:
You may prefer striking out on your own. You may want to choose a blue jay bird feeder based on your personal style, taste, and unique qualities that you personally desire.
Guess what?
It's more than possible to discover one or more of the best blue jay bird feeders on your own. But instead of sending you out into the wild without a guide, I'd like to share some criteria that I think you should pay attention to.
What criteria?
The factors that I believe you should focus on the most are the same factors that I used to narrow the bird feeders that I chose for my review. The factors include:
Aesthetics
Ease of Installation
Durability & Warranty
Ease of Refilling
Cleaning & Care
By zeroing in on each of these categories, you'll find it easier to discover high quality blue jay bird feeders from exciting brands that you'll know, like, and trust because they're known for creating high-quality products.
With that in mind, let's move on…
Aesthetics
Why is aesthetics an important area to focus on?
It depends on you, I guess.
You certainly want an attractive looking bird feeder in your backyard. It will help improve your overall outdoor decor and make your living space more welcoming and inviting.
On the other hand:
You may not care about the way a particular blue jay bird feeder looks. And if this is the case for you, then aesthetics isn't a very meaningful category no matter what way you spin it.
Think about who you are and what you're trying to accomplish when you hang up a blue jay bird feeder in your backyard.
Does it need to look stunningly gorgeous? Or could it look simple and plain as long as it gets the job done?
You need to take this into consideration before choosing a new bird feeder to feed the blue jays and other larger birds in your local community.
Ease of Installation
Pretty self-explanatory, right?
Depending on who you are and your particular skills with installing things, you may not want to buy a blue jay bird feeder that is complicated and difficult to install.
Believe me, because I absolutely get it.
If you take it out of the box and it seems mind-numbingly complicated, it will likely collect dust in a corner of your home for years before you finally muster up the courage to put it together.
I'm not saying that every bird feeder should be easy to install. But what I'm saying is we should buy our bird feeders based on our personal abilities. So, if a particular feeder is difficult to install and you do not possess this ability, you may want to avoid it and choose an easier one.
Or…
You can always call over your handy friend, neighbor, or relative to shoulder this burden on your behalf. It'll likely take them a couple of minutes even though it may have taken you an entire day to hang up the feeder!
Durability & Warranty
Here's the deal:
When you buy your next blue jay bird feeder, you obviously want something that is sturdy, strong, uses durable materials, and is built to last.
Otherwise…
You're likely throwing your money away because the feeder is going to crack, break, or fall apart for some other reason that you didn't anticipate.
So, when you begin your search for your next blue jay bird feeder, really pay close attention to the reviews from other happy (or unhappy) customers.
Why?
Many of the reviews will likely comment on the strength and durability of a particular bird feeder. You'll learn whether or not the feeder was made of strong material, if it is well put together, and you'll read other pieces of advice that tell you if it is durable or not.
On the other hand:
You can also attempt to find out if the manufacturer has a warranty. Discovering this information isn't always the quickest to come by. But it's certainly nice to know if there's a warranty in place because if you're bird feeder breaks you can request a new one.
Ease of Refilling
Here's another critical category…
If you love watching birds in your backyard, you'll need to entice them with tasty bird seeds, whole or shelled peanuts, cracked corn, mealworms, suet, and other tasty treats.
The last thing you need is a bird feeder that's so difficult that it seems nearly impossible to refill. This will turn you off of bird feeding faster than a hummingbird flaps its wings.
Instead of hoping and praying that the bird feeder you intend to buy is easy to refill, you need to research this ahead of time before making your final purchase decision.
Find a bird feeder that opens up with no trouble so you can dump new seeds into the feeder without too much difficulty. You'll be glad that you paid attention to this characteristic because difficult to refill bird feeders are very annoying to say the least.
Cleaning & Care
This category is very similar to the previous one.
Nobody wants to spend hours of their day cleaning out a stupid bird feeder, right? You have much better things to do with your time, like watching gorgeous blue jays eat out of your bird feeder!
You want a bird feeder that doesn't require much effort to care for and clean it. By focusing on this factor, you'll discover which feeders are simple to keep clean and which ones are difficult to take care of.
Remember, a dirty bird feeder can lead to mold and bacteria build-up. This is incredibly unhealthy for your backyard birds and can lead to illness and death.
So, you obviously cannot leave your feeders unclean and unhealthy because you'll harm your fine feathered friends and nobody wants to see that happen.
Like the previous category, pay attention to the reviews and see if other reviewers discuss whether or not a feeder is easy or difficult to clean. You can use this valuable information as a guide to help you choose the right product to meet your needs.
Blue Jay Bird Feeders FAQs:
What Kinds Of Food Should I Put In My Blue Jay Bird Feeders?
Blue jays have a diverse diet and they are willing to eat a wide variety of foods that you can feed them along with other types that can be found in nature.
As far as your bird feeders go, I highly recommend focusing on providing blue jays with the following types of food:
Peanuts (raw or roasted)
Elderberries
Cranberries
Blackberries
Raspberries
Striped sunflower seeds
Black oil sunflower seeds
Sunflower hearts
Mealworms
Suet
Even better…
Blue jays have a strong dislike for thistle seeds and safflower seeds, so if you want to scare them away then put these seeds in your feeders.
Otherwise…
They also like to eat insects, acorns, and beechnuts when they find them in nature. If you have the time or the inclination, feel free to plant oak trees and beech trees in your backyard because the blue jays will love the acorns and beechnuts when they begin to fall.
What Are The Best Bird Feeders For Blue Jays?
You may or may not know this, but out of the wild birds fluttering in your backyard, blue jays are definitely on the larger side.
Do you know what this means?
It means that they can't eat out of certain bird feeders. Some feeders are so small that they can't get their bodies or beaks inside the feeders to get access to the tasty treats.
In some cases, this is a good thing if you're trying to keep these bully birds away from feeders designated for your favorite songbirds.
In other cases, this is very negative because you love having blue jays flapping around in your backyard and making nests for their families and you want to feed them tasty and healthy treats.
If you like having blue jays in your backyard, I recommend using the following feeders because they're perfect for their larger bodies:
Suet feeders
Mealworm feeders
Platform feeders
Tube feeders
Hopper feeders
Each one of these types of bird feeders are great for larger birds because they're bigger and designed to hold their extra body weight.
How Can I Make My Bird Feeders Attractive To Blue Jays?
In particular, I would focus on three specific areas to make blue jays more attracted to your bird feeders and your overall backyard setup. Also, check out this article: How to attract blue jays to my backyard.
First, you have to fill your feeders with the right foods. I answered a question about their favorite foods above, so I won't go into too many details. Just focus on feeding them suet, mealworms, peanuts, sunflower seeds, and other tasty treats like the ones mentioned above.
Next, you have to add a water source to your backyard. The best way to do this is to put a bird bath in the vicinity of your bird feeders. Blue jays obviously need to bathe and drink water throughout the day and they need fresh water for their hatchlings as well.
Your best bet is to add a heated bird bath to your backyard so they can use it all year long even during the cold winter months.
Finally, feeder placement is of the utmost importance.
Do you know that blue jays like eating near shrubbery? Yes, it may seem weird to us but it's definitely their preferred place to enjoy a tasty meal.
So… Your best bet to attract blue jays to your bird feeder is to place it near shrubbery! This helps them feel protected, comfortable, and safe while they nourish their bodies and fill their little bellies.
And a final tip…
Place the bird feeder away from windows. Blue jays get spooked very easily by the presence of human beings, so the further they are from your windows, the better the chance you'll have of getting these beautiful winged creatures to partake of the healthy snacks supplied in your blue jay feeders.
Do I Need To Clean My Blue Jay Bird Feeder And How Do I Do It?
Cleaning the feeder that you use for wild birds is an integral part of safeguarding their health. It can not only prevent the appearance and proliferation of mold, but it will also put a stop to the clumping of your bird feed. This makes it easier for the birds to gain access to their food, but also reduces the number of viruses and bacteria found on the feeder.
Just as it is important to know why cleaning your jay feeder is important, it is crucial to understand the most correct way to do so. Many of the best Blue Jay bird feeders that are commercially available come apart for easy cleaning and are quite easy to get back together. Run the components through your dishwasher on the hottest setting, and let them air dry entirely before constructing it again. Keep your various bird feeders clean and well maintained to avoid the need to replace them and keep the jays coming back for more.
Should I Stop Feeding Blue Jays During The Summer Or Winter?
If you regularly feed the birds who frequent your property, you are likely to enjoy knowing that you are providing a valuable service when food sources are scarce in nature. This is generally in the winter and early spring months. Therefore, you will find it most useful to keep your bird feeders well-stocked at these times.
However, in the warmer summer months when food is plentiful, your bird feeders do not serve as much of a purpose. However, a particularly tempting blend of sunflower seeds and dried corn kernels are an excellent treat with which to attract jays, even when food is all around them. It is easy to make this mixture by hand, some careful examination will tell you the right proportions for your visitors.
How Can I Keep Squirrels Off My Blue Jay Bird Feeders?
One of the biggest threats to the peace and calm that lures birds over to feed on your feeder are squirrels. Not only do they quickly deplete the food available, but they scare birds away and sometimes injure or kill them. Even some of the Best Blue Jay Bird Feeders have issues with deterring squirrels. For a treatment designed to repel the invaders without harming them, use a pepper-based spray. Squirrels cannot stand the taste, but jays do not seem to mind it.
Alternatively, because squirrels are also avid climbers. If your feeders are elevated off the ground, make the base slick so that the squirrels cannot even reach the food. An easy way to do this is to add plastic tubing around a pole or plastic sheeting to another type of structure.
Click the following link for a more detailed article on how to prevent squirrels from accessing your bird feeders.
Should I Offer Blue Jays Water Via A Birdbath?
Not being a migratory bird, it is essential to the well-being of your jays to provide them with water throughout the year. While a conventional birdbath is perfect for this for many months out of the year, to prevent it from icing over and being unusable when the temperatures get low enough, it is recommended to invest in a heated bird bath of these if jays are particularly important to you.
While any container that can dispense water is useful for this purpose, adding an attractive birdbath to the front or back of your home can really boost your curb appeal.
How To Attract Blue Jays To Your Backyard
Some lucky homeowners don't have to attract blue jays, for one day these birds just showed up in their yard and stayed. People who aren't lucky enough to have jays as regular guests or residents wonder why this is.
Here are some tips to attract these admittedly loud, smart birds with their fantastic blue plumage and crested heads:
Offer the Right Foods
In relation to other songbirds, the blue jay is a big bird, so it needs big provender. Canary seeds hold little attraction for it, though it'll eat it in a pinch. What draws the blue jay are big nuts and seeds such as peanuts in the shell, beechnuts, hickory nuts and acorns, and substantial fruits such as blackberries, muscadine grapes, and cherries. Nuts should be unsalted but roasted. Jays have bills that are strong enough to crack acorns and peanut shells with no problem.
Blue Jays also go for black oil sunflower seeds, a favorite of almost all songbirds, cracked corn, and suet. They'll also take insects and are a big help when it comes to ridding the garden of insect pests. Because jays are so big and heavy, the homeowner needs to put the food out on a platform feeder. They will see the bird eat one seed or nut after another. What it's doing is storing them in its throat sac so it can take them away and hide them for later.
Ideally, a platform feeder (one of the best Blue Jay bird feeders) should be placed in a way that follows the five/seven/nine rule. That means the tray should be at least five feet above the ground, seven feet from the nearest structure or tree and nine feet beneath a tree branch, an overhanging eave, or the slats in a pergola. This discourages squirrels, even though a hungry squirrel is ingenious when it comes to stealing food. Another way to put squirrels off blue jay food is to sprinkle it with hot pepper. Squirrels hate it, but the bird doesn't care.
Platform feeders shouldn't be hung in a way that lets them swing, for the bird won't feel secure when it comes to feeding. Jays like to jump right into their food and pick around to find the best bits. The feeder also shouldn't be put too far away from a tree or shrub so the bird can't quickly find shelter if it senses danger. The platform also needs to be placed in the shade.
Provide Water
The blue jay not only needs water to drink but loves to bathe, so a birdbath should be deep and wide. Since they notoriously travel in flocks, the birdbath should be big enough to accommodate a lot of birds. Since jays stay in the same place all year, the homeowner should invest in a heated birdbath to keep the much-needed water from freezing in the winter months. Make sure that the water is changed daily.
Plant the Right Trees
It's possible that the homeowner who didn't have to entice jays to their backyard planted the right trees long ago. The birds love acorns, so oak trees are a good idea. They also nest in trees as opposed to boxes, so mature oak trees are good places to build a nest, as are hickory and beech trees. Jays also tuck acorns and seeds in the crevices they find in the trees. Since they're birds of the forest, the trees and shrubbery should be planted fairly close together to make a woodland garden.
Don't Tidy Up
Besides the right tree, blue jays appreciate a lot of leaf litter, for they'll cache seeds and acorns here as well. Jays, like squirrels, sometimes forget where they put things, and this promotes the germination of oaks and other needful plants.
Provide Nesting Material
Not tidying up the yard too much also encourages jays to stick around. They use discarded twigs and sticks to build their nests. If the homeowner wants, they can offer a nesting platform, but it has to be large, sturdy, and able to fit securely in a tree. The best time to offer nesting material is from early spring into mid-summer. This is also the time to put out more feeders, and scatter some blue jay food on the ground.
Don't Get Too Close
Though there are birds who will take food from a person's hand, the blue jay isn't one of them. They won't eat if they sense that a human is around and may actually dive-bomb a person who gets too close either to their source of food or their nest. It's always best to watch jays do their thing from a window.
Blue Jay Only Feeding Area
It must be said that Blue Jays can be aggressive. Besides divebombing people and animals who get too close, they can take over feeding stations meant to accommodate other birds besides them. Not only that, but they've also been known to eat the eggs and kill the chicks of other, smaller songbirds, and nearly every songbird is smaller than a blue jay. Homeowners might want to set aside a place where the jays can feed, and set up a blue jay proof area for the other birds.
Amazon Best Rated Products - Last Updated on 2023-12-05. DISCLAIMER: Some or all of the product links on this page are affiliate links. The operator of this website received a small commission if you purchase products through these links, HOWEVER, there is no added cost to you. These commissions help to fund the operation of this BirdInformer.com